Bacon Quiche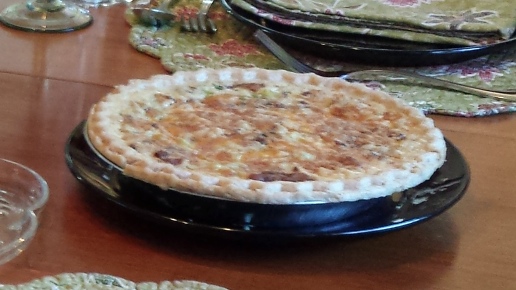 INGREDIENTS
8" pie shell (may be frozen)
4 - 5 slices of bacon, cooked crisp and crumbled
1 bunch green onion
4 eggs
1 3/4 c heavy cream
3/4 c shredded cheddar cheese
METHOD
Preheat the oven to 350˚.
Place the pie shell on a cookie sheet. Sprinkle the crumbled bacon into the bottom of the pie shell.
Slice the green portion of the onions and set aside.
In a bowl, whisk the eggs with a long-tined fork until a little frothy. Add the cream and stir until blended. Sprinkle in the cheese and stir until blended.
Gently pour the egg and cheese mixture over the bacon in the pie shell. Sprinkle the chopped green onions over the surface of the quiche. Place the quiche, on the cookie sheet, on the middle rack in the oven. Bake for approximately 45 - 50 minutes. You will know that the quiche is done when you tap the edge of the pie tin with a wooden spoon and the center of the quiche no longer ripples.
The quiche may be kept warm in the oven for half an hour or so prior to serving.