Lemon Blueberry Scones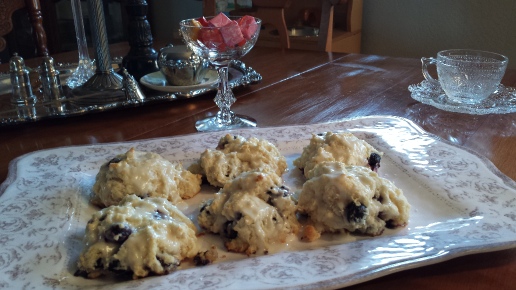 INGREDIENTS
1 3/4 c flour
2 t baking powder
2 T sugar
1/2 t salt
1/2 c (1 stick) cold butter
1 c fresh blueberries (or 1/2 c dried blueberries)
zest of 1 lemon
approximately 3/4 c whole milk
METHOD
Scones
Preheat the oven to 375˚.
In a bowl, whisk together the flour, baking powder, sugar, salt and lemon zest. With a sharp knife cut the butter into small pieces into the bowl of dry ingredients. Press the butter into the dry ingredients with your fingers until the lumps have disappeared. It should take about a minute and a half or so. Do not overwork the batter. Add blueberries and milk. Fold lightly until a dough forms (about a minute) being careful not to pop the blueberries. If the dough does not incorporate all the flour add a bit more milk until the dough is formed.
Using a standard-sized ice cream scoop, drop balls of dough onto a heavily buttered cookie sheet. Bake for 15-20 minutes, until the edges of the scone are golden.
Glaze
1 c powdered sugar
juice of one lemon
Using a long-tined fork, stir the juice slowly into the sugar until the glaze is of the desired consistency. You may not need all the juice. After the scones have cooled for five or ten minutes, drizzle the glaze over the scones. Best if eaten immediately.