Yosemite Plaisance Bed & Breakfast is located in a peaceful residential neighborhood of old town Mariposa, which means that your lodging is an oasis of quiet and privacy. There are three suites: the Redwood Suite, the Janette Suite and the Soleil Suite.
Each suite has its own bathroom and both a king-sized bed and a queen-sized bed, so it can comfortably accommodate up to four adults. A large sliding-glass door in each suite provides you private entry and easy access to our tree-shaded patios and deck.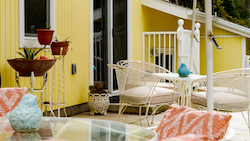 The suites are each uniquely styled with eclectic decor, including antiques as well as contemporary pieces, and the walls feature original art from local artists.
For your convenience all our suites have complimentary WiFi, a small refrigerator and hot beverage station, and shelves of books with selections that appeal to guests of all ages.